Love Quotes: A great collection of Cute, love, Sad, Romantic, Short Quotes For all. Famous I Love You Quotes to Express Your Lovely Emotions.
Love is a beautiful feeling. You can feel it only when you have a genuine love for someone. But in many cases, it has been observed that the person in love, whether a boy or a girl, cannot express his feelings adequately. He is always looking for a way through which he can show his love to his lover. So my dear friends, today we have brought this great post, in which you will find all kinds of quotes expressing your love feelings in English. With the help of which you can make your relationship happy and beautiful. So start reading now and feel a deep sense of love. And share these beautiful love quotes with your lover and tell them how much you love them.
Romantic Love Quotes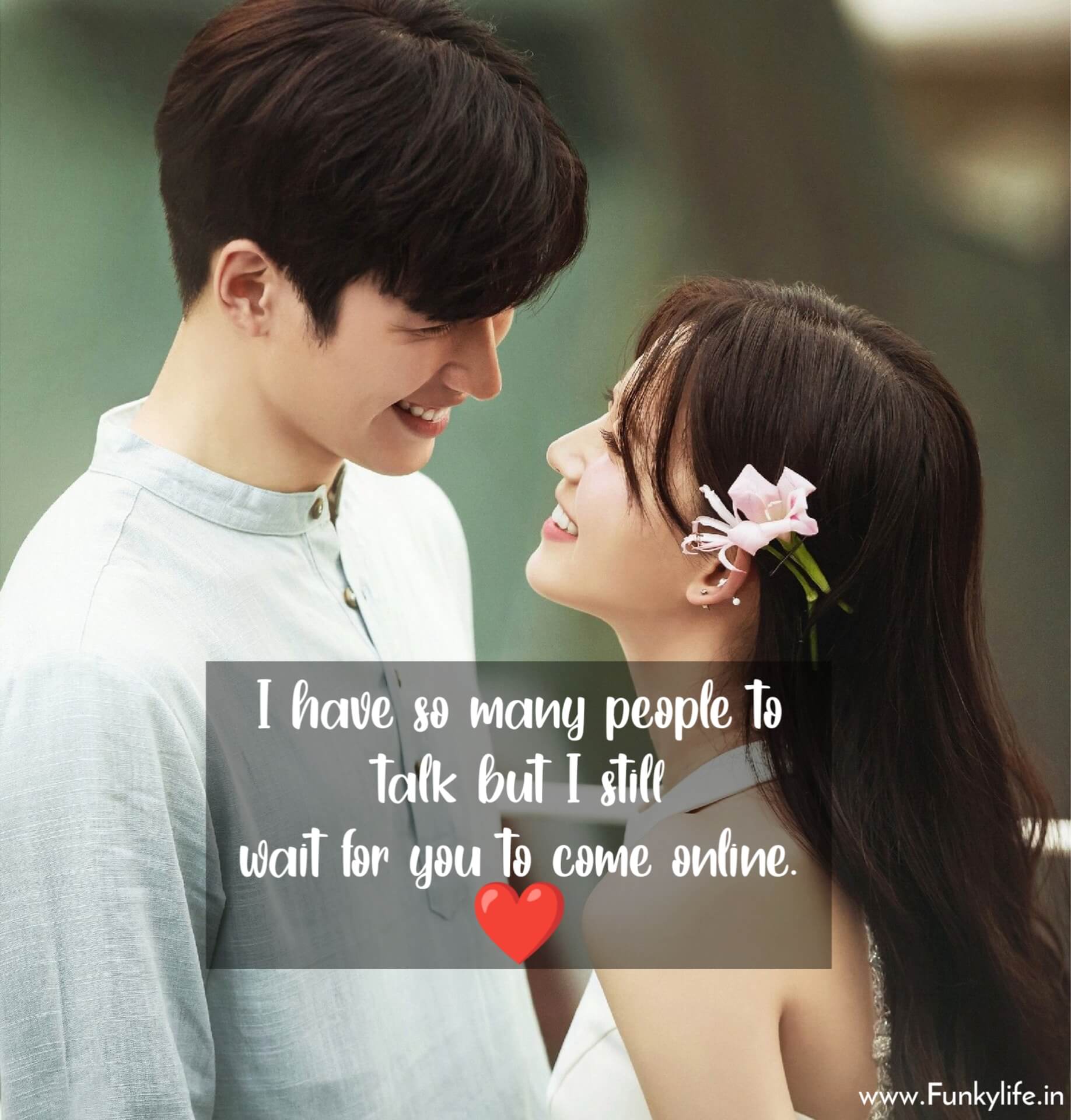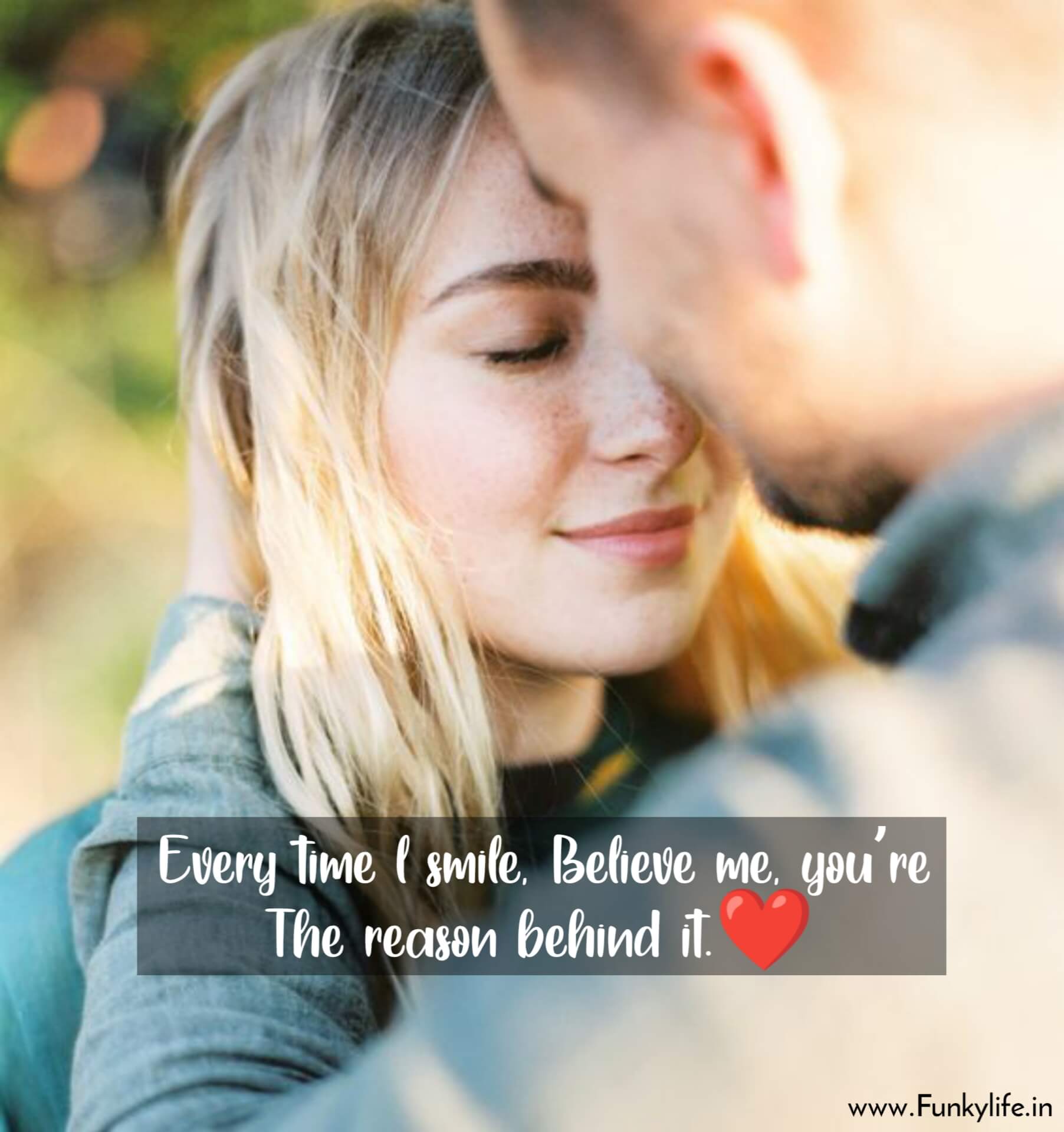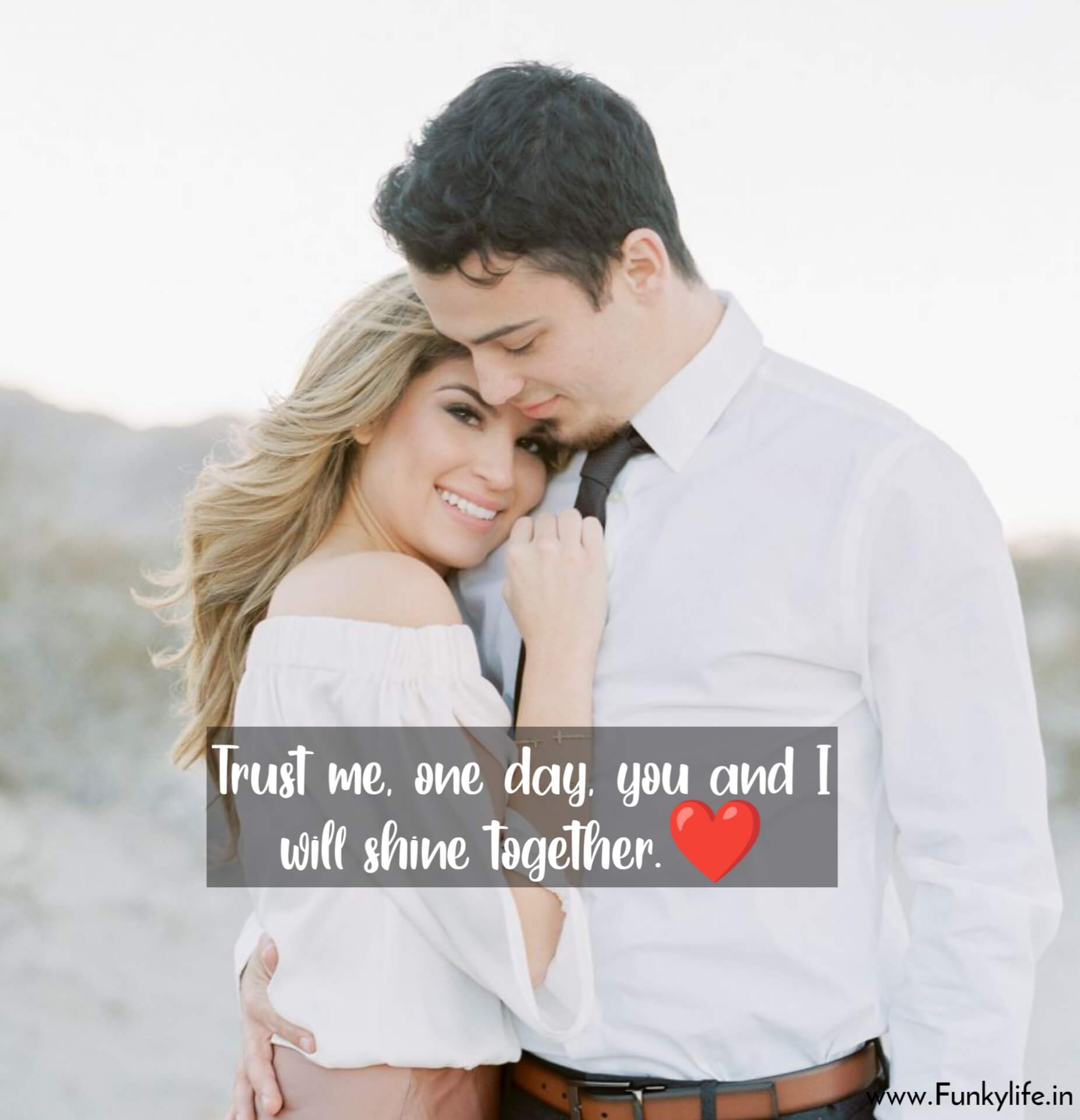 I only want two things in this world.
I want you. And I want us…
Once you're mine then you're mine forever.
I am in you and you in me, mutual in divine love.
Be it 10 minutes or 10 hours, I love talking to you.
I asked God to give me the best gift ever, He gifted me "you".
I will always choose you Even on the days we don't understand each other.
You think you're one of the millions But you're one in a million to me.
I would take every risk to be with you baby.
I don't know what will happen in the future, but I promise I will never leave you alone.
I am so addicted to you that, I can hear your voice in my mind while reading your text.
Hand in hand. You & me.
Today, tomorrow, forever.
Even if I don't physically see you I feel your presence with me all the time.
I don't know why but I find you in every song, I listen to.
Even on my worst days, I promise to love you more.
Maybe I'm too late to be your first.
But right now, I'm preparing myself to be your last.
Feeling love Quotes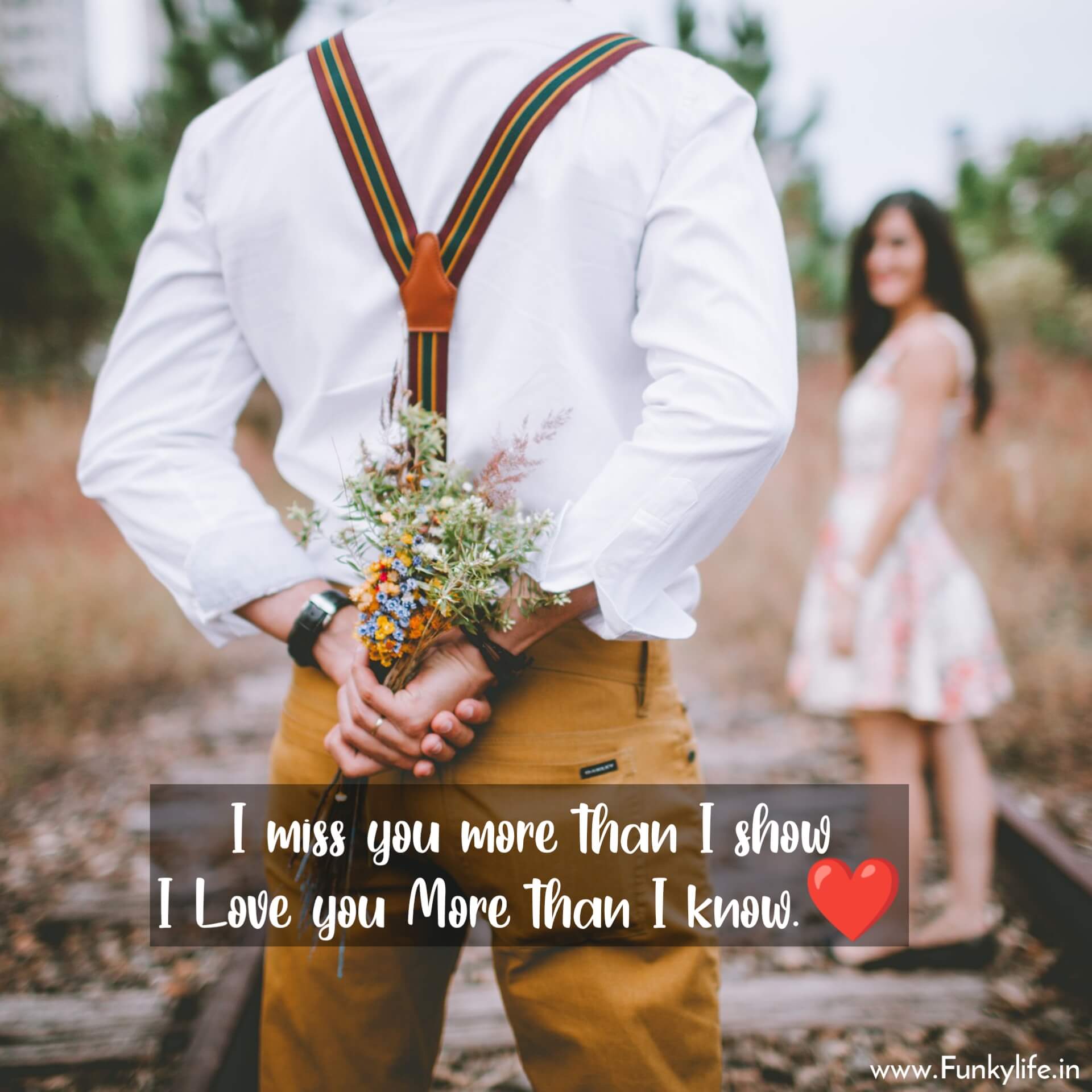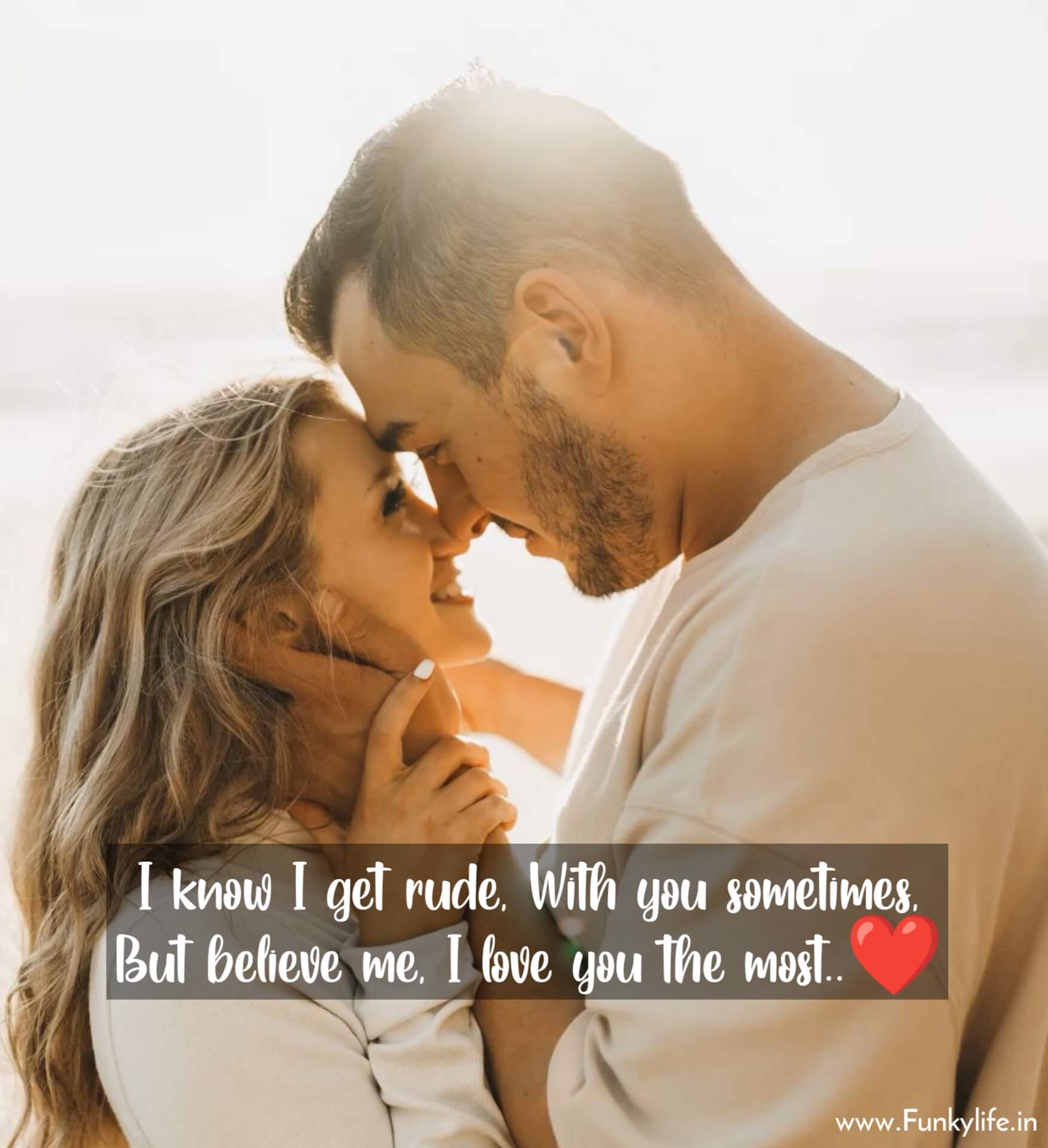 And no matter how much we fight, only you can make my mood right.
I can bear anything in this world, but I can't bear the pain of losing you.
The best moment of my life, when you said you love me too.
I easily get jealous because I love you.
Just hold my hand and I'll be the happiest person alive.
A long-distance relationship isn't hard If it's with the right person.
When I wake up you are the first person, I think of.
I could talk to you for hours and not get tired of your voice or your laugh.
I could never get tired of seeing your smile. I really could never get tired of you at all.
You are my favorite "Hello" and hardest "goodbye."
I love the way you express your love for me with different surprises.
Please never ever leave me you're the only reason I'm smiling every day.
You never have to feel alone I'll always be there with you.
If I make a list of what makes me happy then your name will be on top.
A great relationship is where yesterday's fight doesn't affect today's communication.
Remember 3 things:
I'm here,
I'll wait,
I love you more than anything.
Cute Love Quotes For GF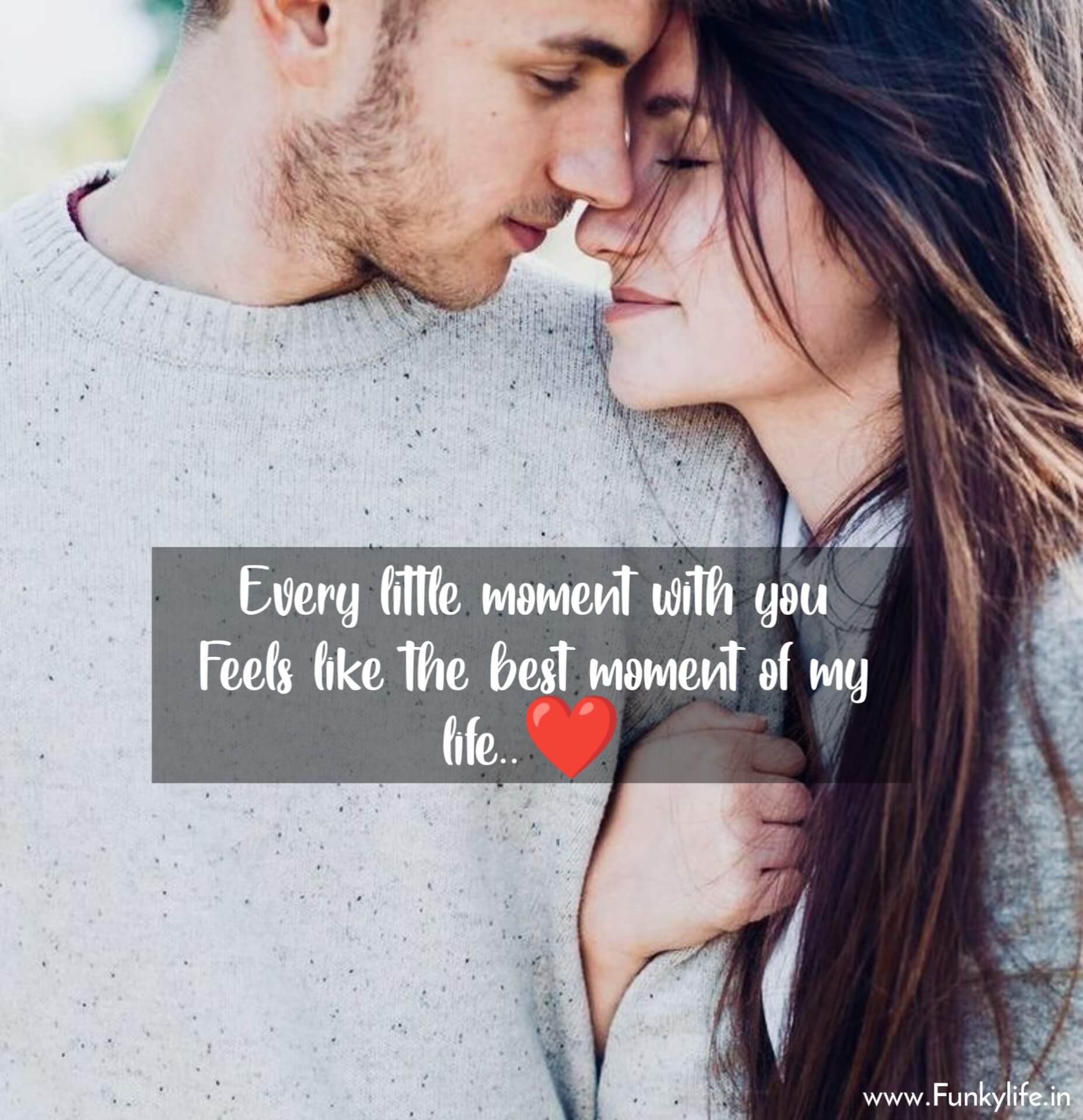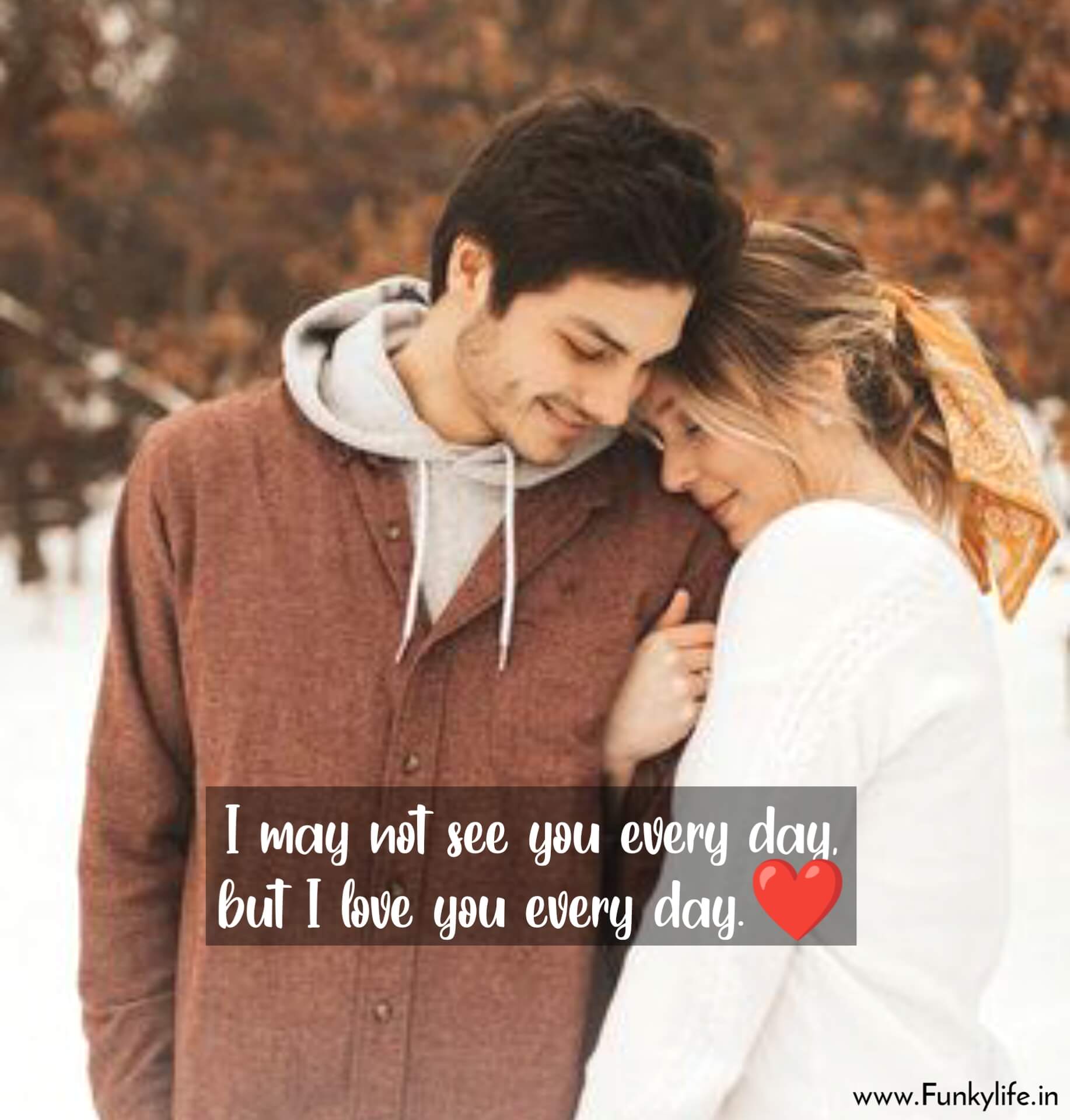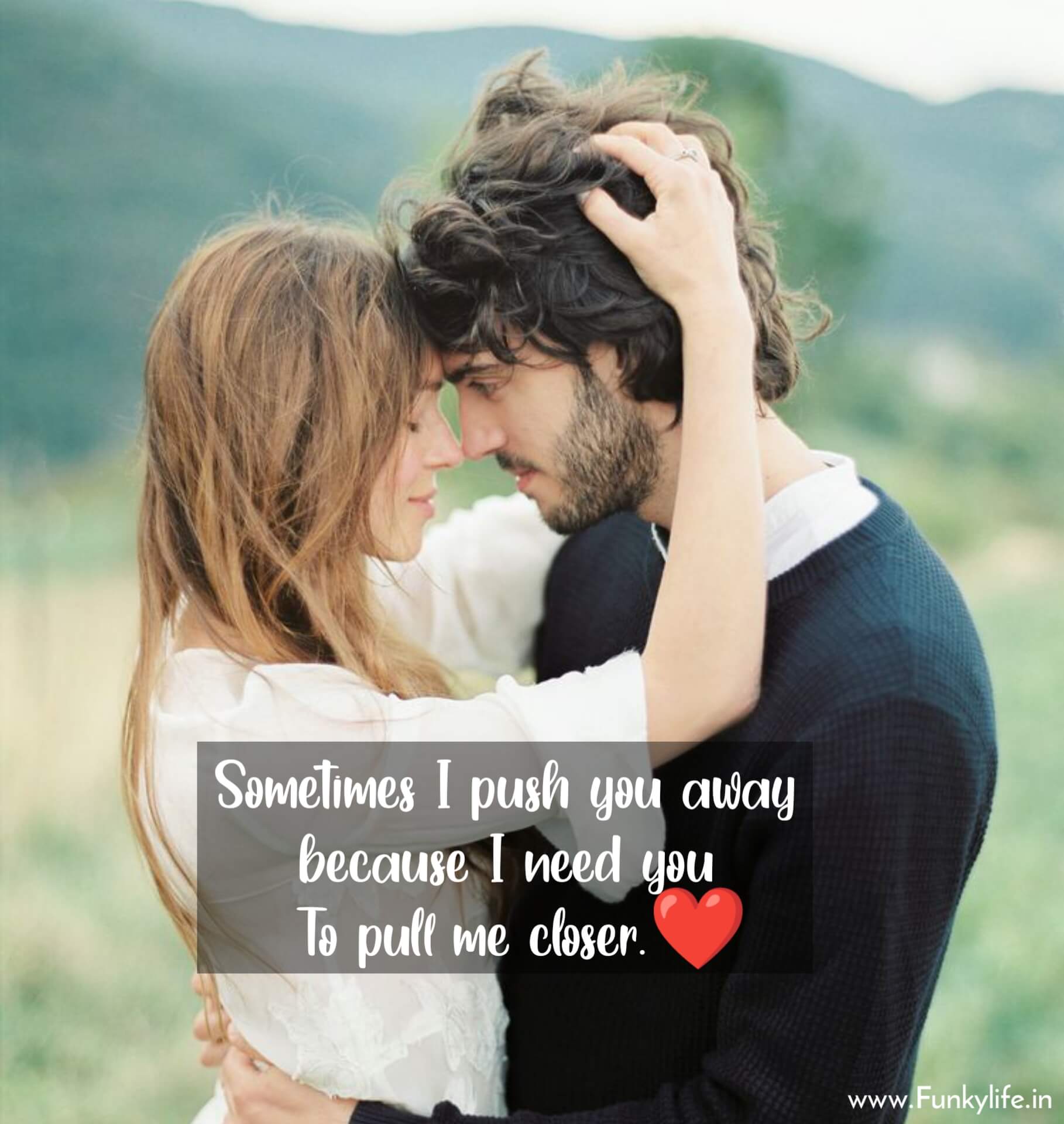 Trust me when I say "Nobody is going to love you like I do" I mean it.
You're not just you, you're a part of me too.
In the world of imperfections, I found the perfect you.
You never cross my mind because you always live in it.
Sit beside me, I'll tell you how much I love you.
Every night in my dreams I see you, I feel you.
I go to bed every night with a smile on my face Coz I know I'll get to talk to you again tomorrow.
I don't know about love, but whenever I see your name in notification I smile.
Tell me about your bad days and I will make them your best days.
You are the one I was searching for my whole life.
I love you.
Every fight between us brings me more closer to you.
I choose you and I'll choose you every day.
We smile brightest when we're with each other.
Happy or sad, angry or mad Day or night, Dark or light I'll love you for the rest of my life.
I still remember that first touch, It gives me goosebumps.
Love Quotes For Him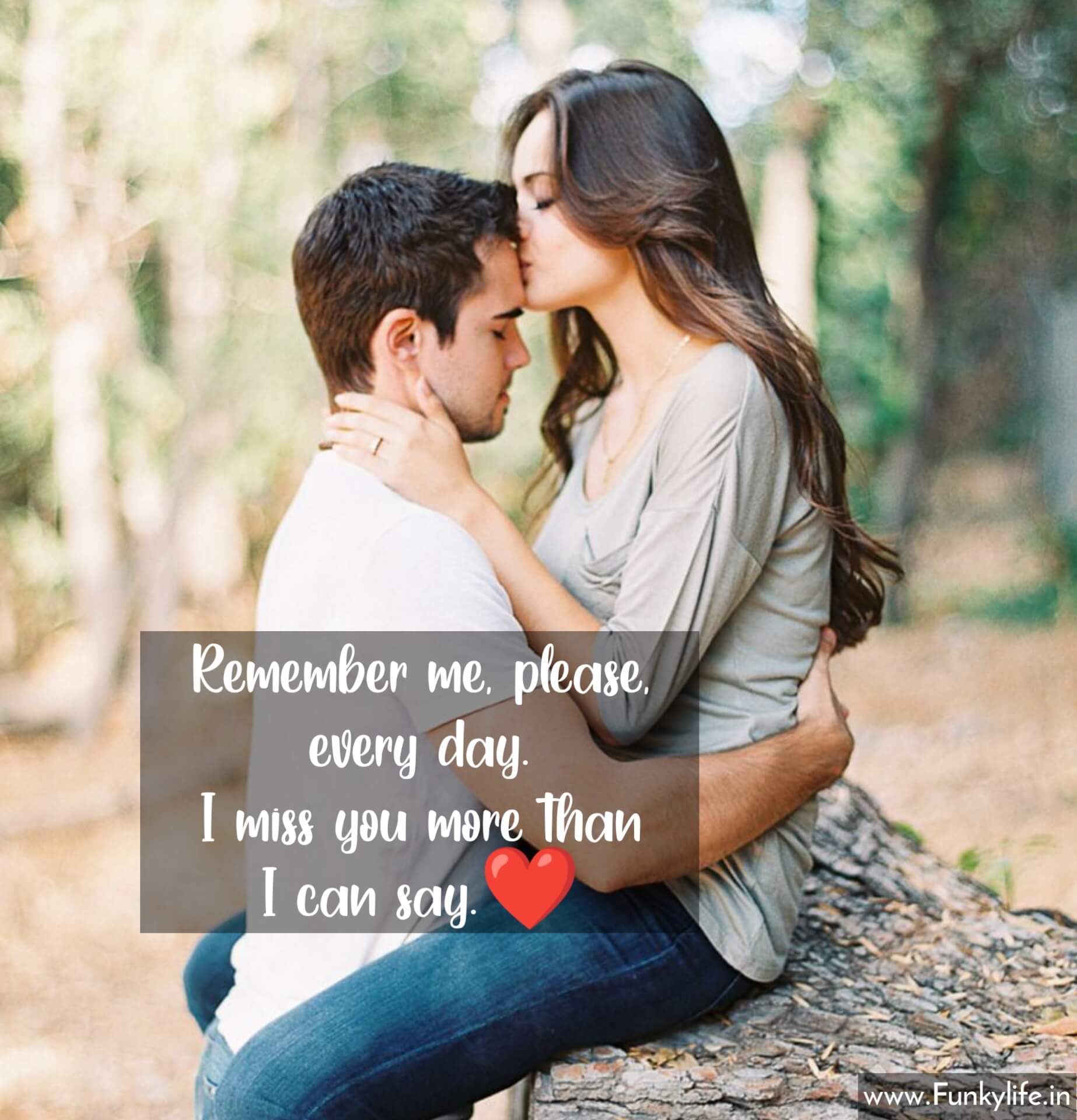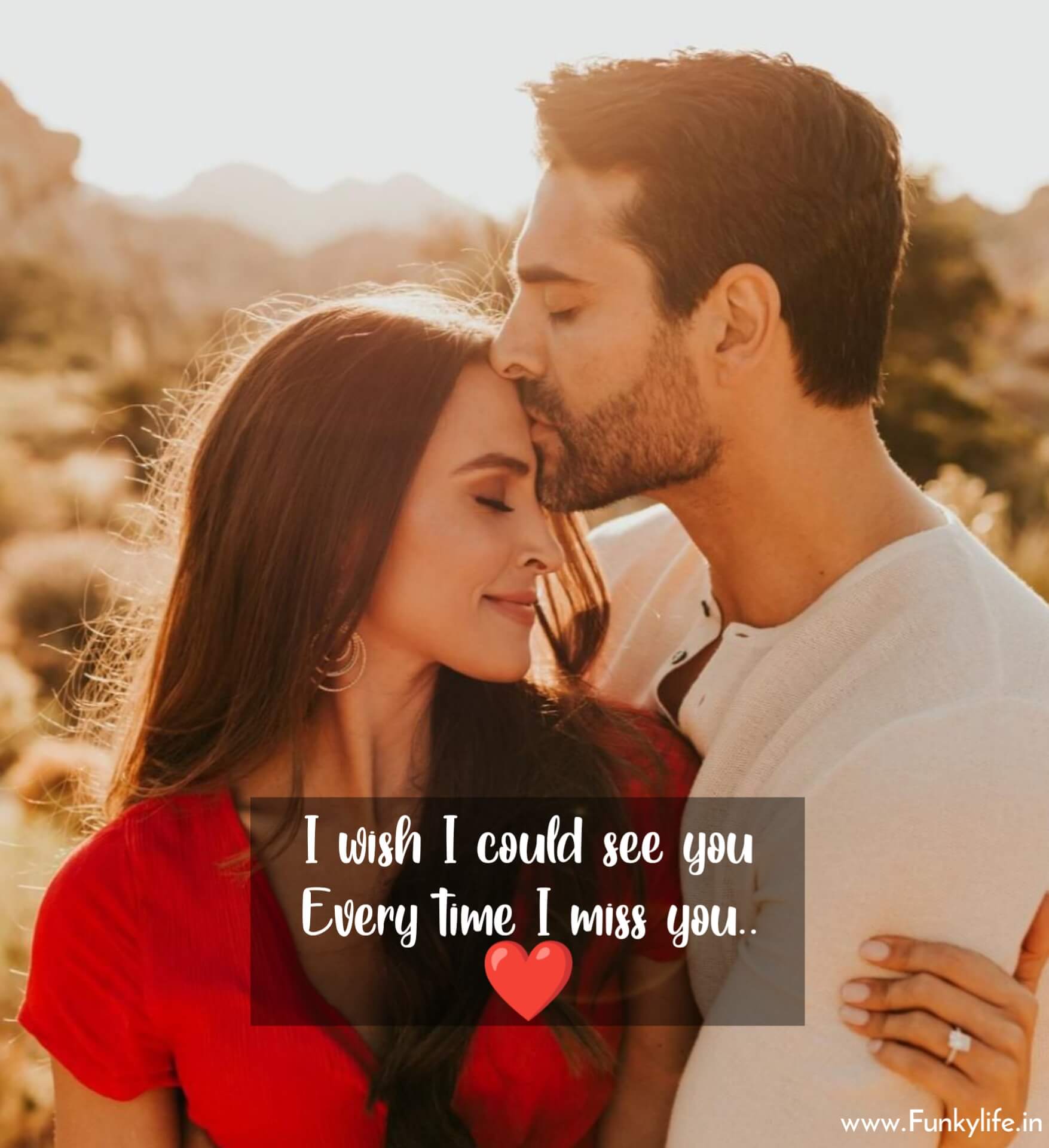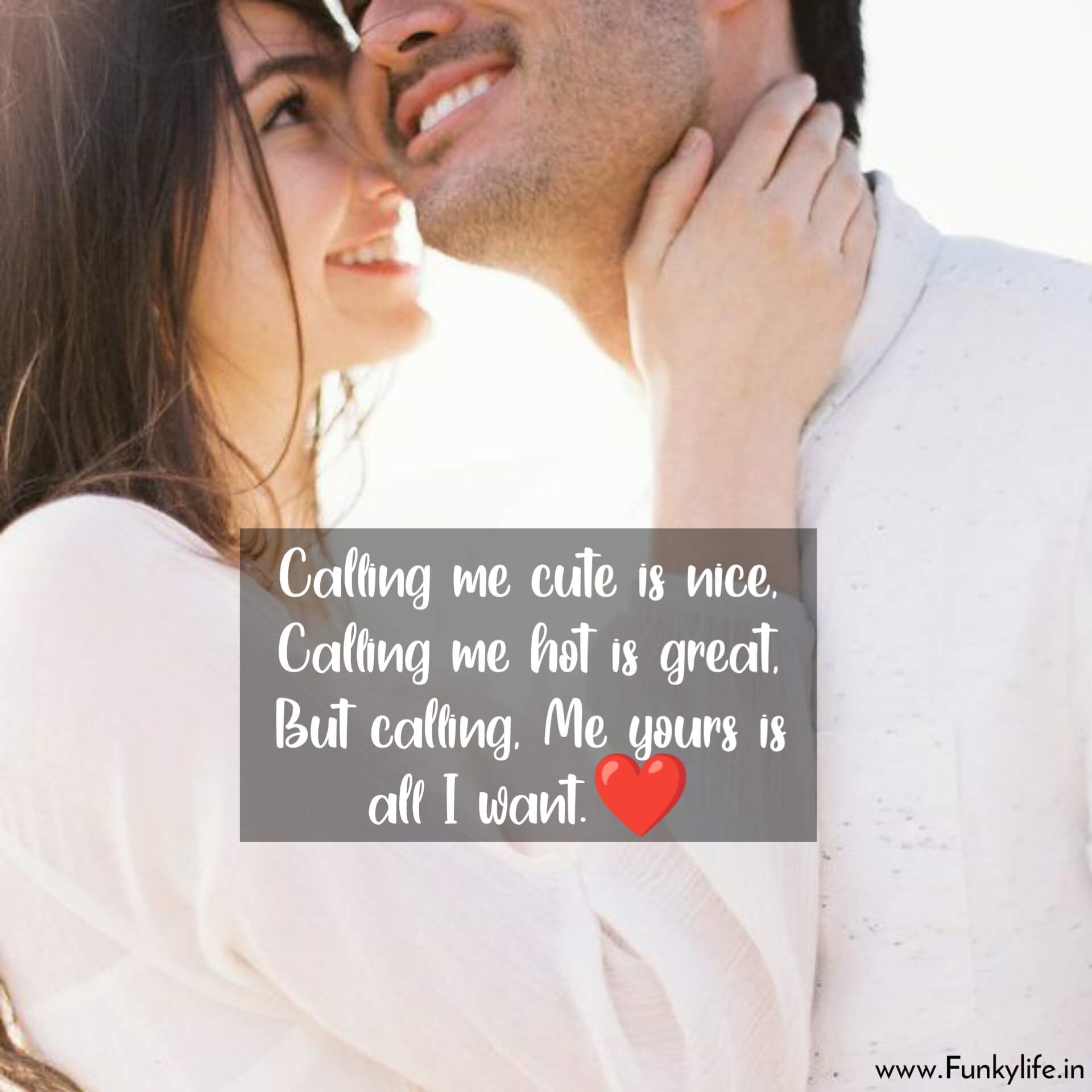 A million feelings all for just one person, that's you.
Just loving you is enough for me.
You're the color of my heart.
Hug me until I smell like you.
If I cried So I really love you.
No one can fix my mood except you, my love.
I wish, I could copy and paste, You into my bed.
I don't want much just your time, Your love, and you.
Keep me closer, show me hope Fix me up, love me the most.
I only wish for your happiness If you're happy I'm happy too.
I will never stop worrying about you, It's not a burden, you're just too important to me.
I always think about you before sleeping, so that you can appear in my dreams.❤️
And when you say you miss me I start missing you more.
When you love someone, you don't make excuses. You make time.
The last person you think of before you go to sleep is the one who truly owns your heart.
Beautiful Love Quotes For Couple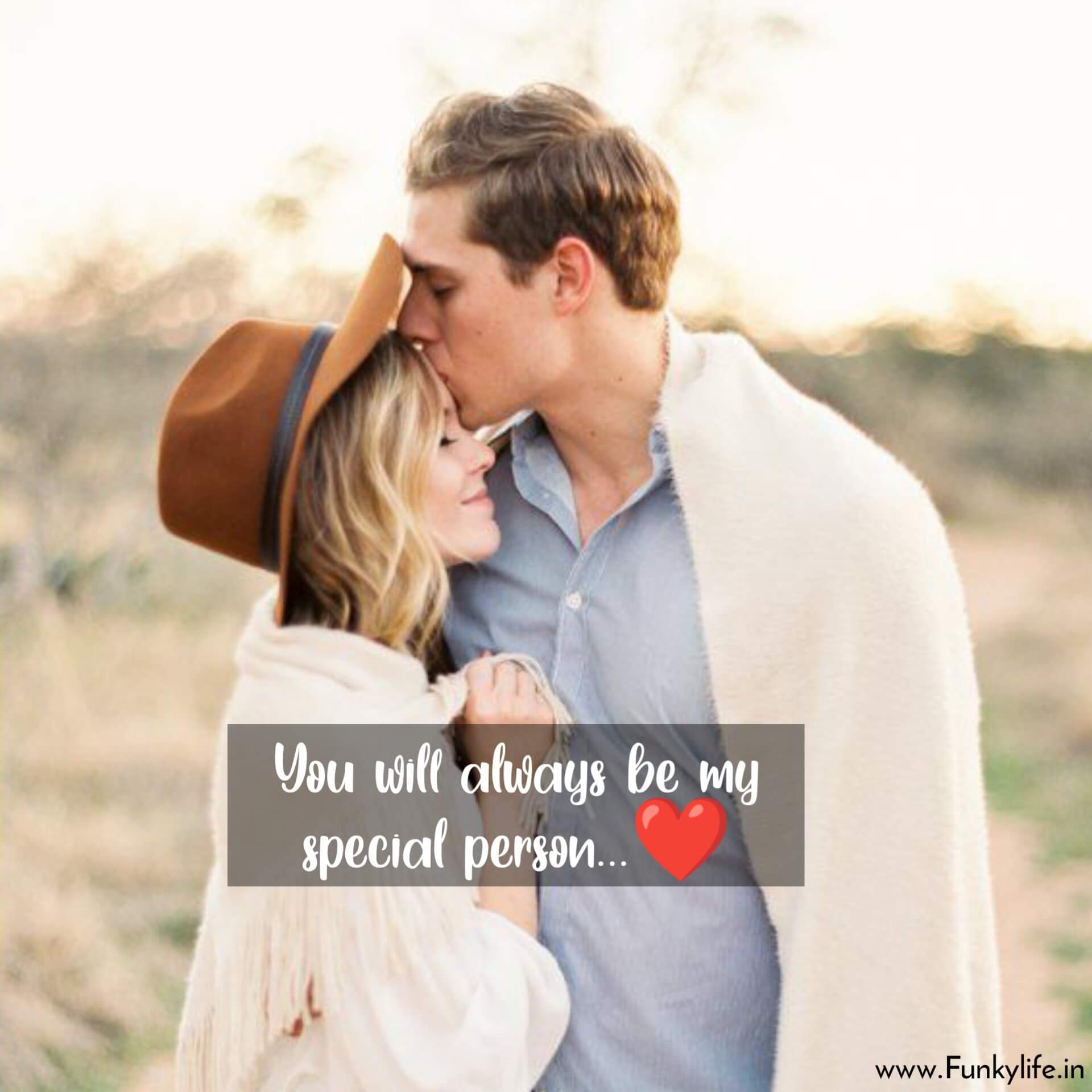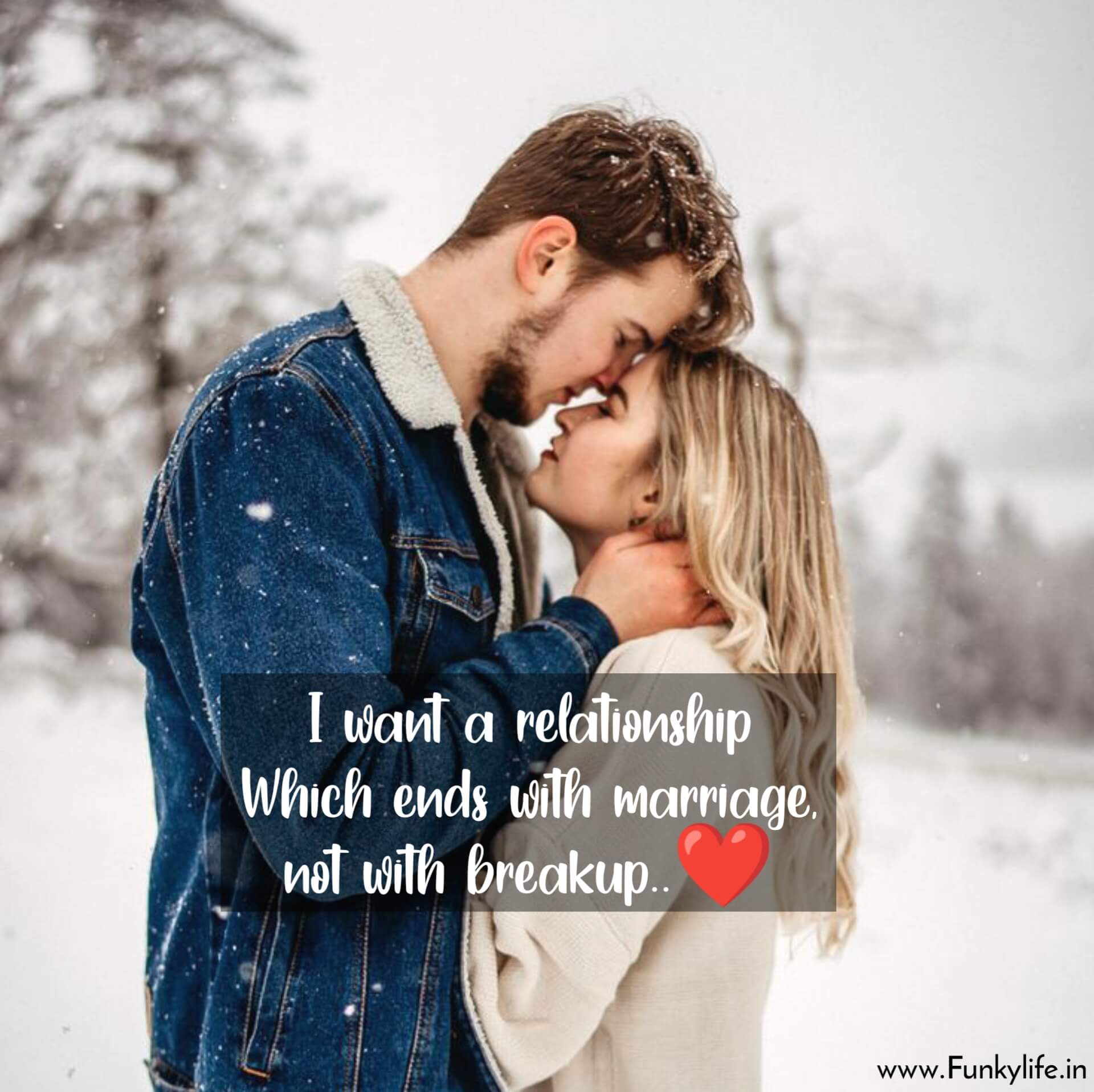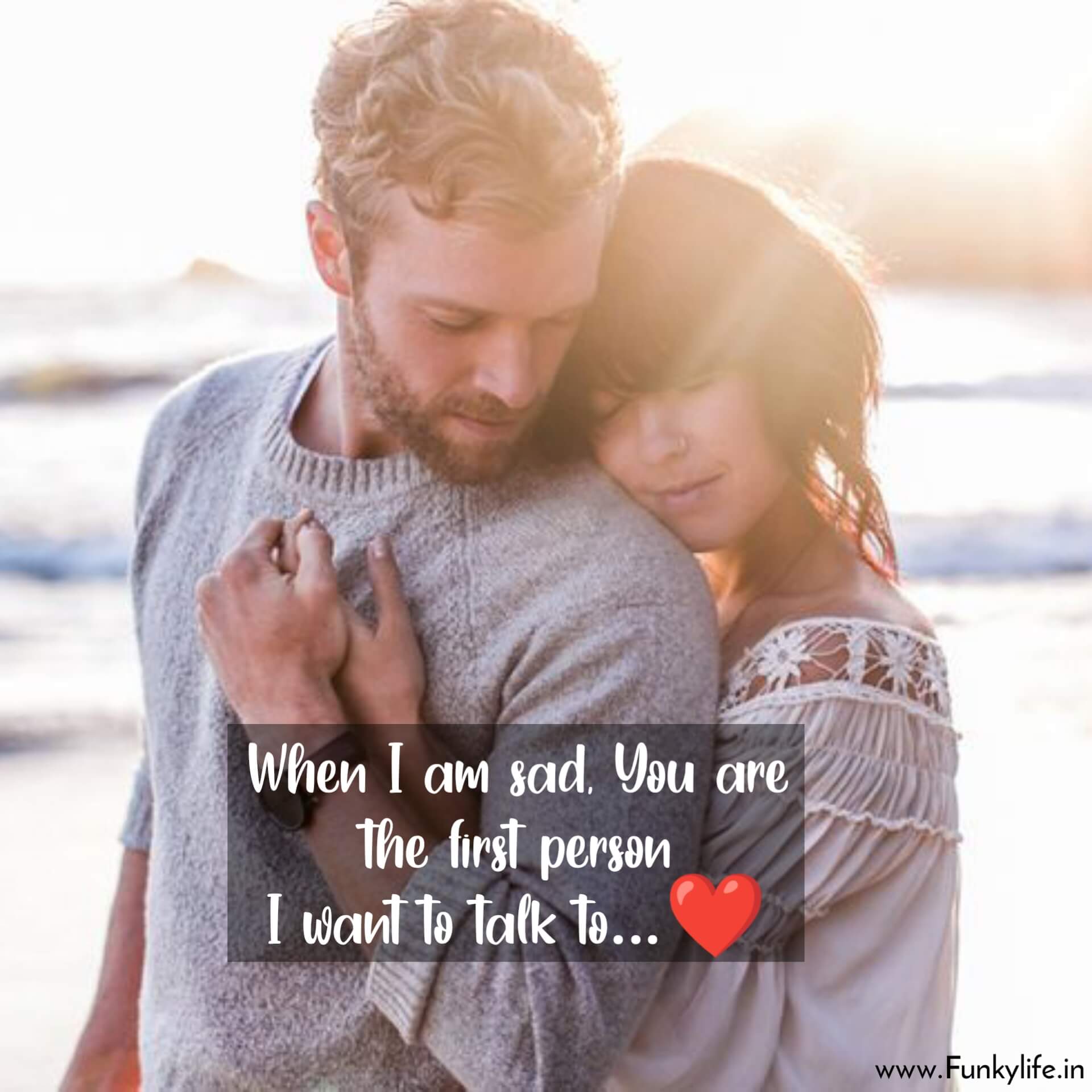 My day is not complete if I don't say to you "l love you".
Baby, you are my teddy bear, I just want to hold you every time.
Making me happy does not require a lot of effort, your presence is just enough.
Baby, thank you for coming Into my life.
You are not an option you are my priority.
You were my yesterday, you are my today, and without you, I can't imagine tomorrow..
I can't replace you because there is no one like you.
I might be possessive, but It's only with you my baby.
The best part of my entire day is talking to you.
You made for me, and I am made for you, we both are made for each other.
I will wait for you because honestly, I don't want anyone else.
Someday we will be able to go to bed together every night.
No third person can break our bond, because our bond is more strong than their stupid tactics.
Be my Best friend in public but lover in private.
I wish all my mornings start with you.
Top Love Quotes in English 2023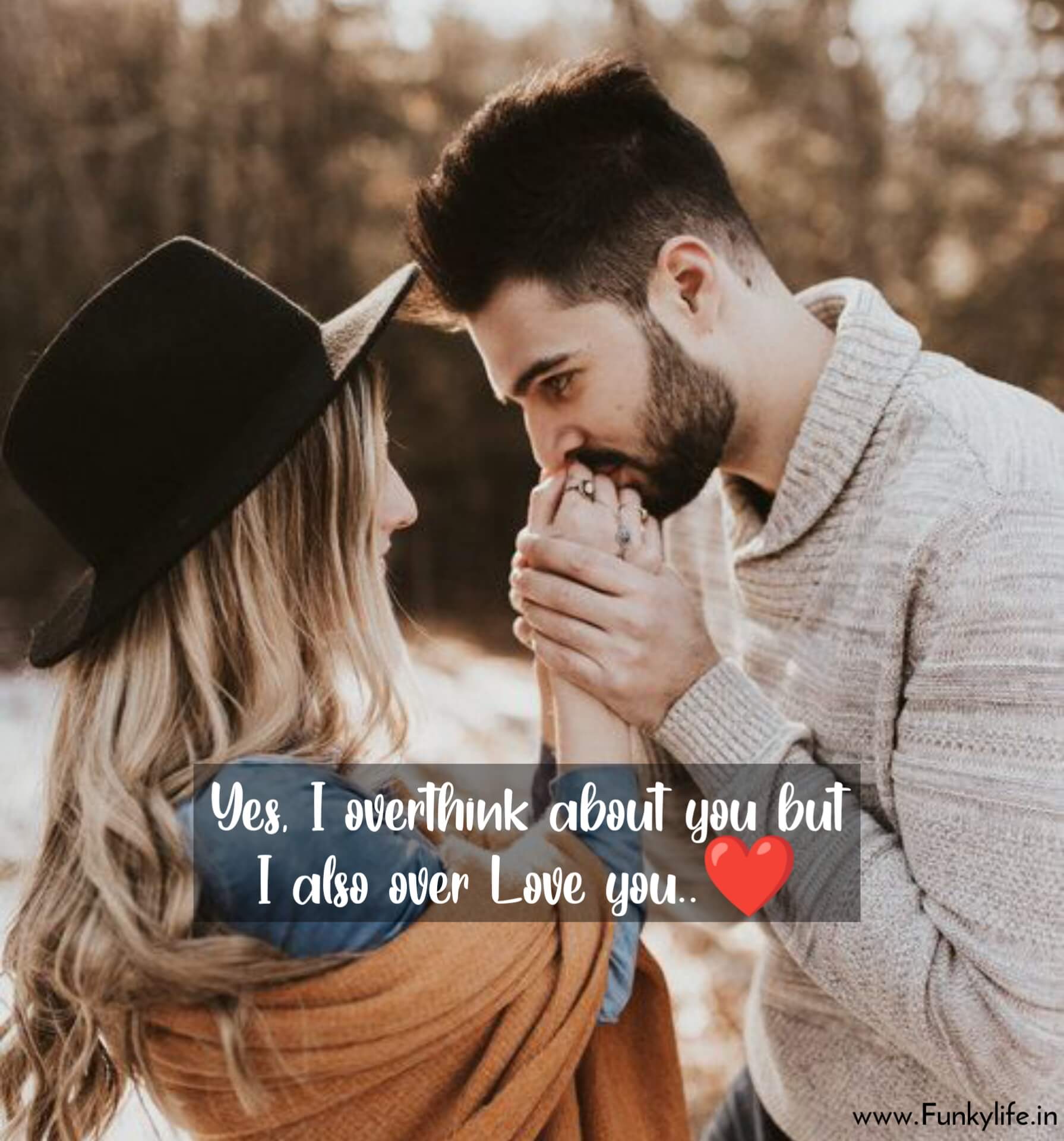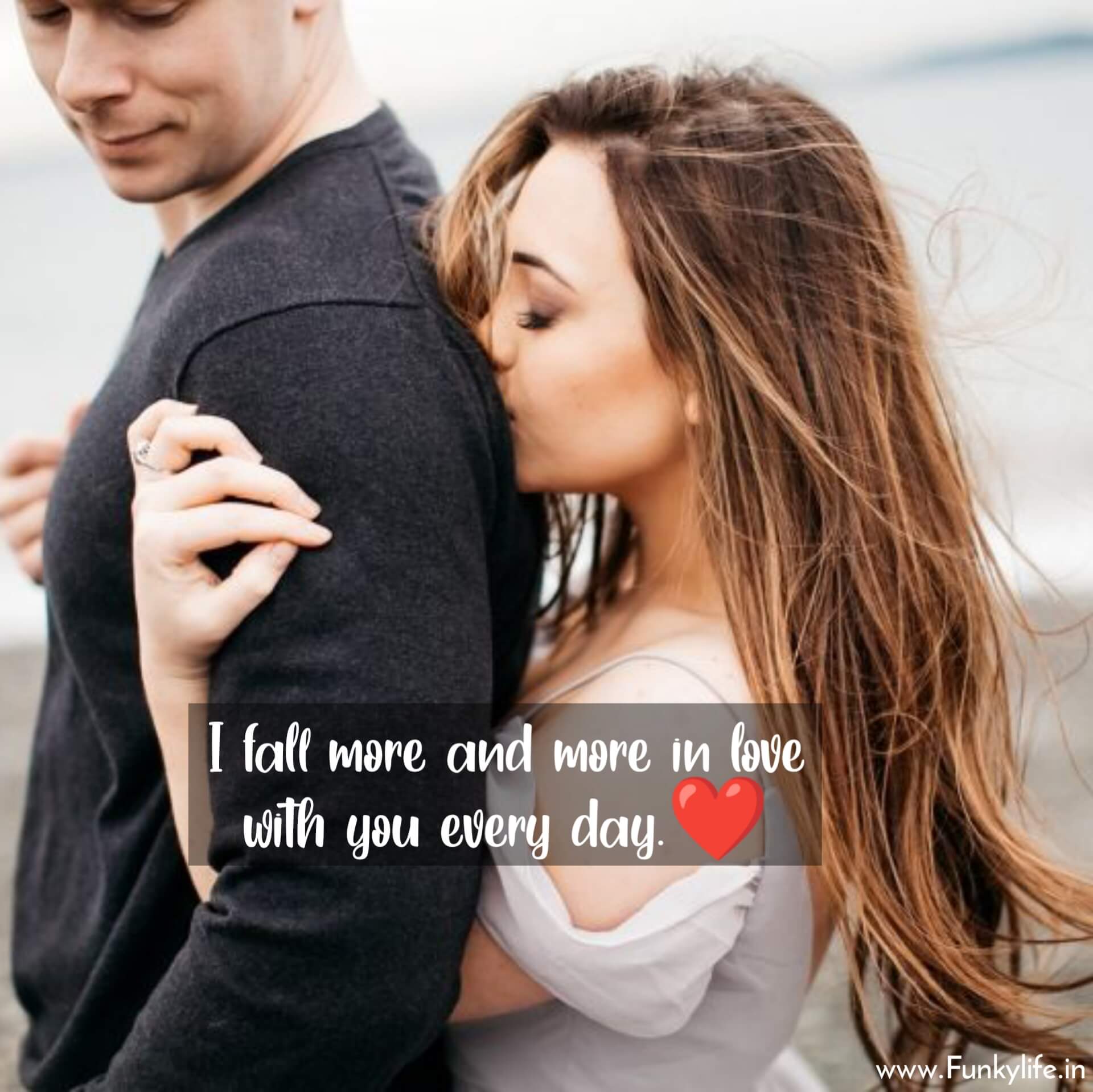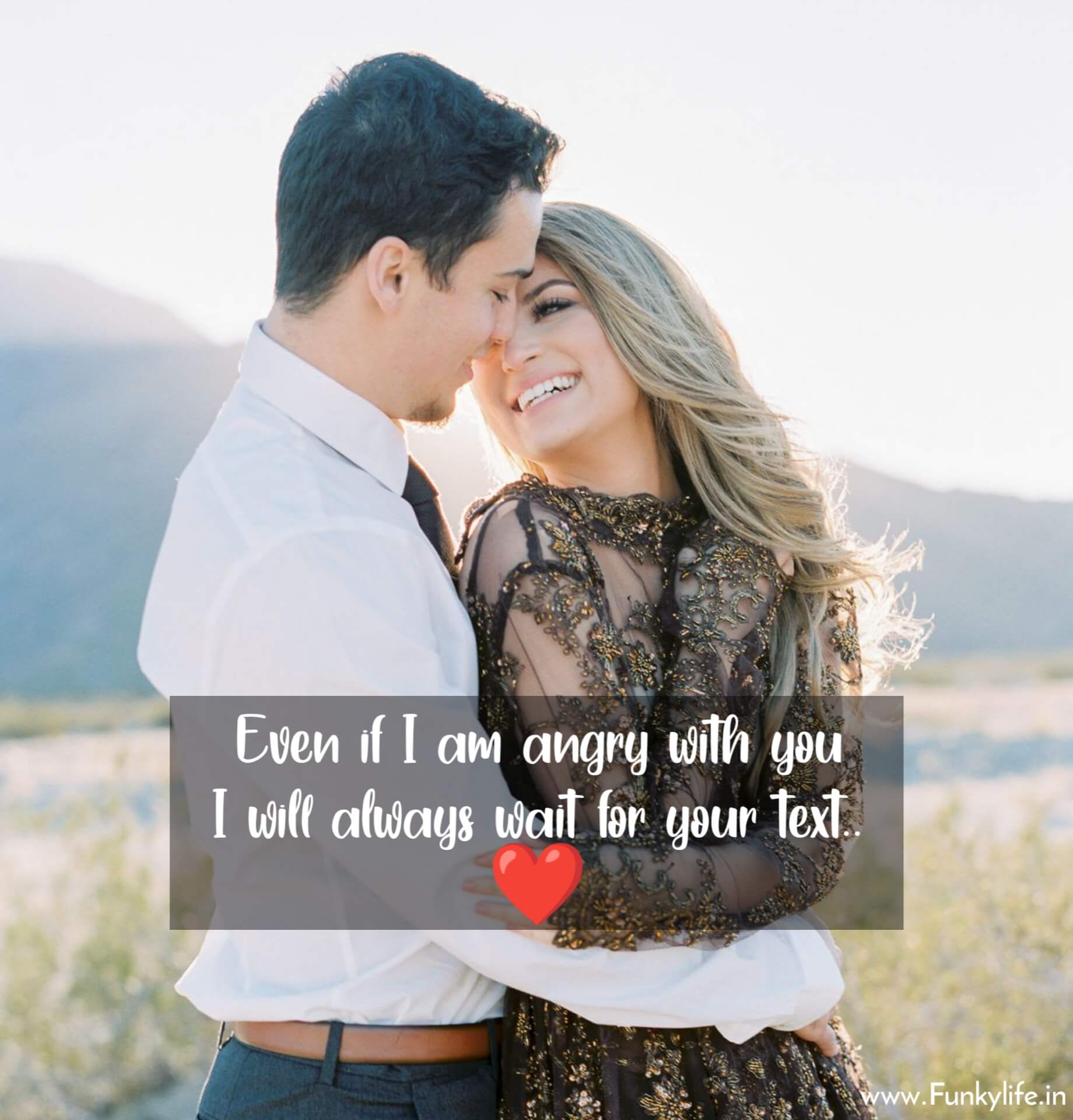 Making memories with you Is my favorite thing to do.
You are mine and it's my job to keep you happy and safe forever.
You are my world and I love you so much.
Every Love story is beautiful, But ours is my favorite.
A million feelings all for one person and that's you.
Ready to share everything with you my love but never Share you.
I want someone to look at me and say keep in mind "you're only mine".
I want you today, tomorrow, next week, and for the rest of my life.
Truly, Madly, Deeply, In love with you.
A true love story based on
"Compromise"
"Trust"
"Respect"
With you, everything feels alright…
Our love wasn't perfect sometimes sour
Sometimes sweet
but still, I'd choose you every day
Like a favorite song on repeat.
When we're together or when we're apart,
You're first in my thoughts and first in my heart.
Every time I think I can't fall more in love with you, you prove me wrong.
You're my favorite. My favorite pair of eyes to look into. My favorite name to appear on my phone. My favorite way to spend an afternoon. You're my favorite everything.
Love Quotes For Men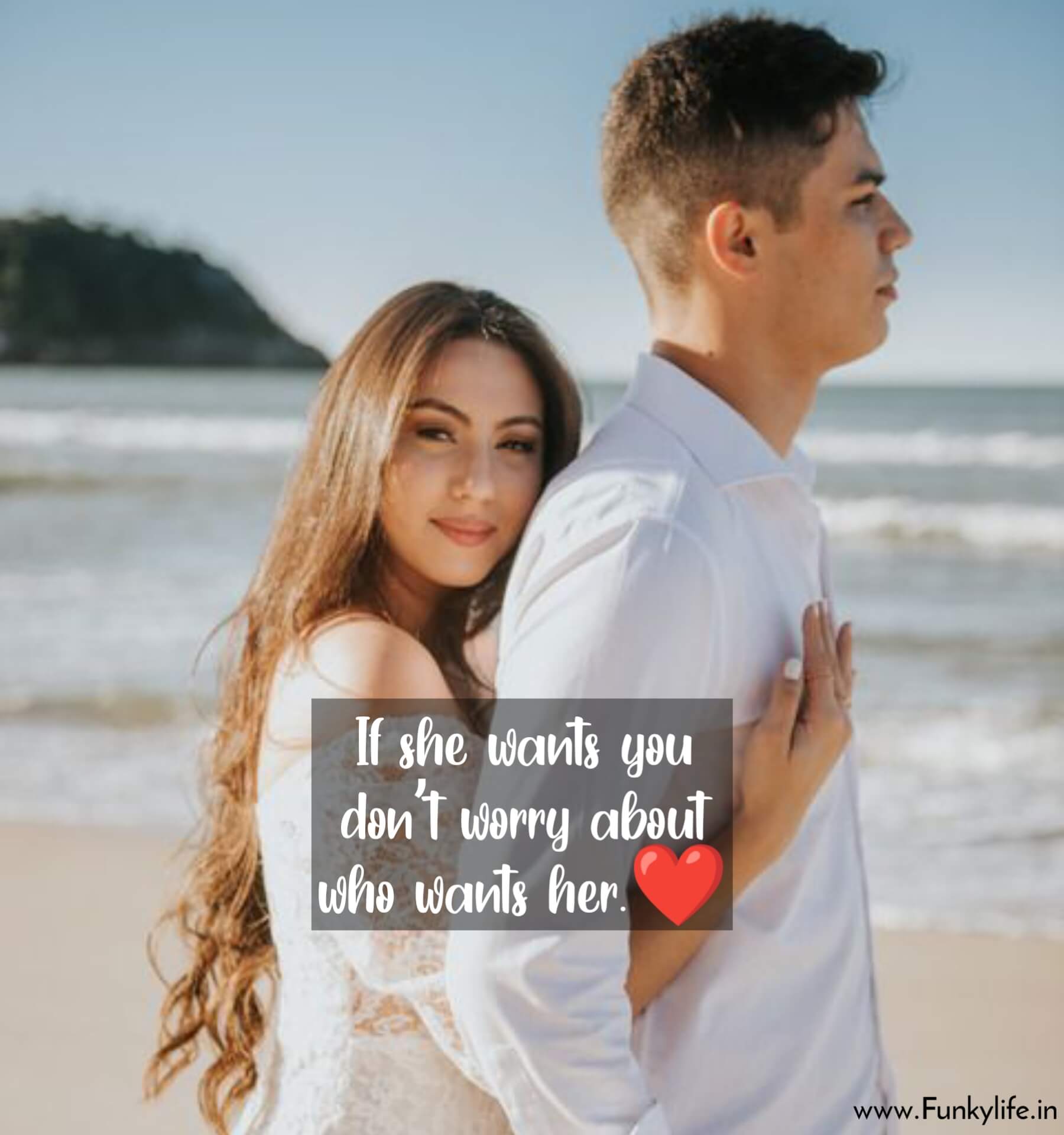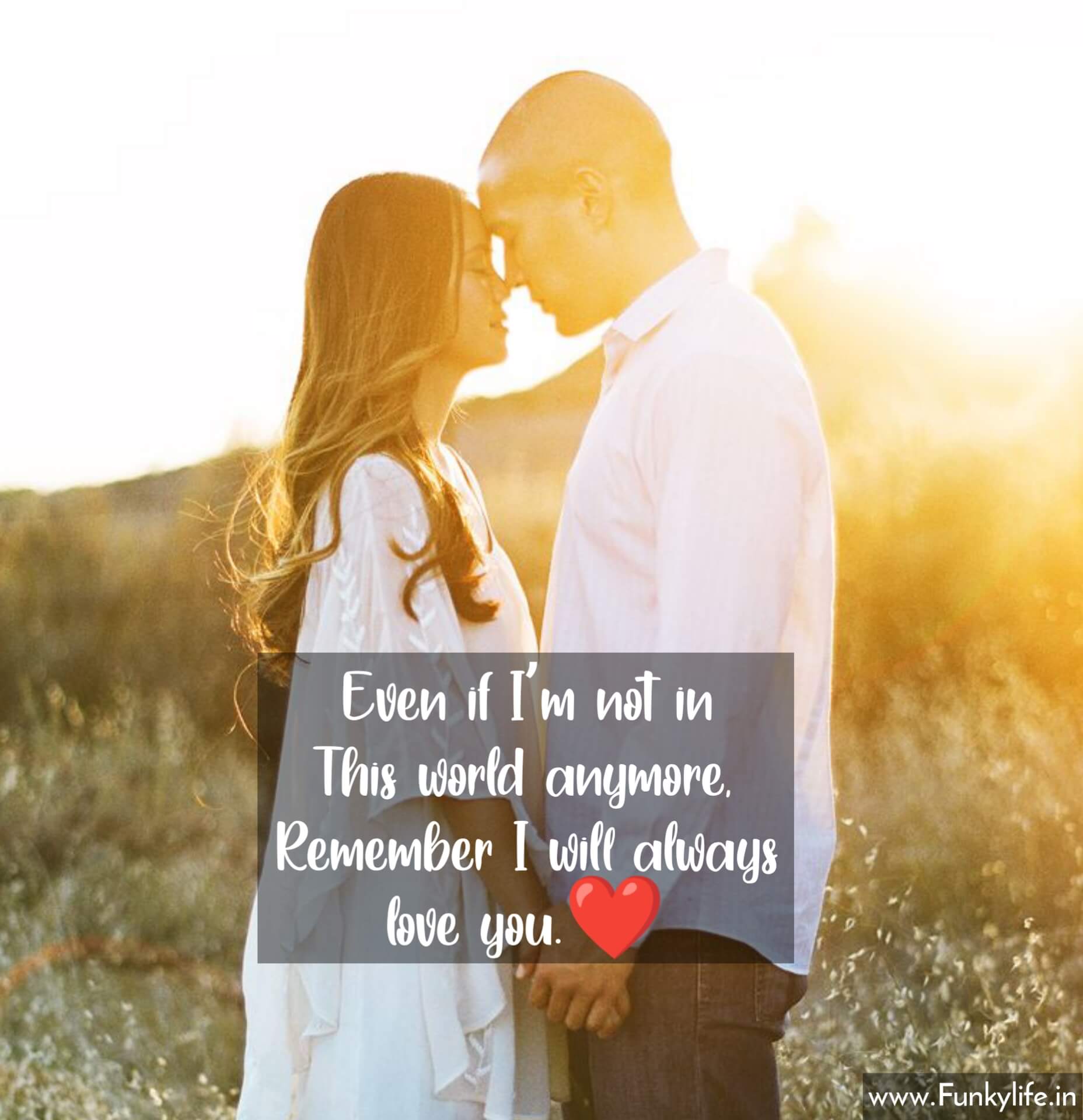 "You are not the love I was looking for,
You are more.
You are better."
The best love is the one you never saw coming.
True love is meeting someone and just being so grateful for their existence.
You deserve love, that makes you feel you're meant for love too.
If you really love that person, learn to wait.
Maybe you're not meant to be together today but meant to be in the future.
Please take care of yourself
I wanna keep you for a long time.
My darling,
You will never be unloved by me
You are too well tangled in my soul.
I wanna to cry with you but we can't
Because if we were together we wouldn't be sad.
I don't care how complicated this gets I still want you.
I just wanna be with you, that's all.
I've never loved anyone as I love you.
Please never leave me.
I need you.
The moon and the stars tried their best, but I couldn't look away from you.
You have no idea how much I like you
How much you make me smile how much I love talking to you or how much I wish you were here.
I love my eyes when you look into them, I love my name when you say it, I love my heart when you touch it, I love my life when you are in it.
I love you, that means I'm not just here for the pretty parts and the happy days.
I'm here for the rough and the bad days.
I'm here no matter what.
Deep Love Quotes
You're thousands of miles away,
But no one else is closer to my heart than you are..
I may irritate you a lot,
But trust me I love you a lot…
Life is very beautiful when I spend every moment with you.
My wish is that, you will You're my heart, my life, my one and only thought.
I don't want to change anything in you, because I love the way you are…
I won't let you go, even if we fight a lot, I still want you in my life.
No matter how much time I spend with you, I start missing you the next moment you leave…
I feel I am luckiest because I found love and friendship in a single person…
No one will ever know how perfect you are to me.
Honestly, I feel so happy when you share every small thing with me.
I really care for you and I never want to lose you, love you…
You are the reason my mom asks why I'm always smiling at my phone…
I love having a conversation with you, even if I have nothing to say…
I get jealous, I get mad, I get worried, I get curious.
But that's only because I love you so much and I don't wanna lose you.
One of the best feelings in the world is when you're hugging a person you love and they hug you back even tighter.
Short Love Quotes
Inside my heart, there is 1% blood and 99% you.
Always in my mind forever in my heart.
You + Me = Happiness ❤️
I don't need expensive gifts, I only need you, babe.
With or without conversation, You're still the one I want.
I just miss you, I hope you miss me too…
I will love you until the day I die, babe.
One day you & me will be Husband and wife.
In the world of temporary options, you are my permanent choice.
Every time I see you, I fall in love all over again…
I always commit mistakes, and do stupid things,
I am not perfect but my love for you is true.❤️
Whether it's AM or PM, Rain or Sunny, weekdays or Weekends, I will be there for you, always…
You are home to me, and I love coming home.
I'm hoping, I'm waiting, I'm praying, you are the one.
My promise to you is always to love you and keep you happy.
I Love You Quotes
I can't explain how much I love you.
The journey is hard but beautiful with you.
I love when someone teases me with your name.
Everything is fine when you are mine.
Please never leave me because you are the reason why I started believing in love again.
If I could, I would hide you from this entire world and keep you forever close to me.
Even if I get thousands of choices, my first and last choice will be you.
Whenever I think about the future, the first thing that comes to my mind is you.
Someday when the pages of my life end, I know that you will be one of its most beautiful chapters.
Famous Love Quotes
Love is only known by him, who hopelessly persists in love.
– Friedrich Schiller.
My great hope is to laugh as much as I cry, to get my work done and try to love somebody, and have the courage to accept the love in return.
– Maya Angelou.
You know you are in love when you can't fall asleep because reality is finally better than your dreams.
– Dr. Seuss.
Everyone admits that love is wonderful and necessary, yet no one agrees on just what it is.
– Diane Ackerman.
Love is like war: easy to begin but very hard to stop.
– H. L. Mencken.
Love is a simple thing and a deep thing: it is an act of life and not an illusion. Art is an illusion.
– George Bernard Shaw.
Love is that condition in which the happiness of another person is essential to your own.
– Jubal Harshaw.
There are all kinds of love in this world but never the same love twice.
– F. Scott Fitzgerald.
You don't love someone for their looks, or their clothes, or for their fancy car, but because they sing a song only you can hear.
– Oscar Wilde.
Where there is love, there is life.
– Mahatma Gandhi.
We accept the love we think we deserve.
– Stephen Chbosky.
The falling out of lovers is the renewing of love.
– Robert Burton.
Life without love is like a tree without blossoms or fruit.
– Khalil Gibran.
You can love someone so much…But you can never love people as much as you can miss them.
– John Green.
Happiest is he who expects no happiness from others. Love delights and glorifies in giving, not receiving. So learn to love and give, and not to expect anything from others.
– Meher Baba.
Loving others always costs us something and requires effort. And you have to decide to do it on purpose. You can't wait for a feeling to motivate you.
– Joyce Meyer.
There is always some madness in love. But there is also always some reason in madness.
– Friedrich Nietzsche.
Love is the substance of all life. Everything is connected in love, absolutely everything.
– Julia Cameron.
Love is much like a wild rose, beautiful and calm, but willing to draw blood in its defense.
– Mark Overby.
Love always triumphs over what we call death. That's why there's no need to grieve for our loved ones because they continue to be loved and remain by our side.
– Paulo Coelho.
Quotes About Love by Famous People
Love cures people – both the ones who give it and the ones who receive it.
– Dr. Karl Menninger.
Love recognizes no barriers. It jumps hurdles, leaps fences, penetrates walls to arrive at its destination full of hope.
– Maya Angelou.
Faith makes all things possible… love makes all things easy.
– Dwight L. Moody.
There is no gift greater than love.
– James Branch Cabell.
The greatest thing you'll ever learn is just to love and be loved in return.
– Eden Ahbez.
You can give without loving, but you can never love without giving.
– Robert Louis Stevenson.
If everything is imperfect in this imperfect world, love is most perfect in its perfect imperfection.
– Gunnar Bjornstrand.
If you love a flower, don't pick it up. Because if you pick it up, it dies and it ceases to be what you love. So if you love a flower, let it be. Love is not about possession. Love is about appreciation.
– Osho.
Blessed is the influence of one true, loving human soul on another.
– George Eliot.
The sweetest of all sounds is that of the voice of the woman we love.
– Jean De La Bruyere.
The moment we begin to seek love, love begins to seek us. And to save us.
– Paulo Coelho.
Better to have loved and lost, than to have never loved at all.
– St. Augustine.
Love has nothing to do with what you are expecting to get only with what you are expecting to give which is everything
– Katharine Hepburn.
Instead of creating a reason why you cannot love the world, try to create a reason why you should and must love the world.
– Sri Chinmoy.
Love is like a beautiful flower which I may not touch, but whose fragrance makes the garden a place of delight just the same.
– Helen Keller.
The value and quality of any love is determined solely by the lover himself.
– Carson McCullers.
Where there is the greatest love, there are always miracles.
– Willa Cather.
Love is like playing the piano. First, you must learn to play by the rules, then you must forget the rules and play from your heart.
– Anonymous.
True love is usually the most inconvenient kind.
– Kiera Cass.
Famous Sayings About Love
Romantic love is an illusion. Most of us discover this truth at the end of a love affair or else when the sweet emotions of love lead us into marriage and then turn down their flames.
– Thomas Moore.
If you want to be loved, be lovable
– Ovid.
Love is of all passions the strongest, for it attacks simultaneously the head, the heart, and the senses.
– Lao Tzu.
You are at the beginning of your life, perhaps you will have many loves, but if you are fortunate, you will have only one love.
– Jolee Bindo.
Life isn't long enough for love and art.
– W. Somerset Maugham.
Beauty grows in you to the extent that love grows, because charity itself is the soul's beauty.
– Augustine of Hippo.
Love isn't how you feel. It's what you do.
– Madeleine L'Engle.
Love: It will kill you and save you, both
– Lauren Oliver.
Love is the joy of the good, the wonder of the wise, the amazement of the Gods.
– Plato.
Whoever lives true life, will love true love.
– Elizabeth Barrett Browning.
World peace can be achieved when the power of love replaces the love of power.
– Sri Chinmoy.
Lovers need to know how to lose themselves and then how to find themselves again.
– Paulo Coelho.
Inner sense of worth that comes with being in love does not seem to depend essentially on whether the love is returned or not.
– Rollo May.
In our life, there is a single color, as on an artist's palette, which provides the meaning of life and art. It is the color of love.
– Marc Chagall.
Love is the force that transforms and improves the Soul of the World.
– Paulo Coelho.
Love is a word, what matters is the connection that word implies.
– Bernard White.
Love isn't something you find. Love is something that finds you.
– Loretta Young.
Love is when the other person's happiness is more important than your own.
– H. Jackson Brown, Jr.
Being deeply loved by someone gives you strength while loving someone deeply gives you courage.
– Lao Tzu.
Love is a special word, and I use it only when I mean it. You say the word too much and it becomes cheap.
– Ray Charles.
True love quotes
There is only one good thing in life, and that is love.
– Guy De Maupassant.
Immature love says: "I love you because I need you." Mature love says: "I need you because I love you.
– Erich Fromm.
Duty makes us do things well, but love makes us do them beautifully.
– Phillips Brooks.
True love is eternal, infinite, and always like itself. It is equal and pure, without violent demonstrations: it is seen with white hairs and is always young in the heart.
– Honore De Balzac.
Love has no age, no limit; and no death.
– John Galsworthy.
A loving heart is the beginning of all knowledge.
– Thomas Carlyle.
Love is needing someone. Love is putting up with someone's bad qualities because they somehow complete you.
– Sarah Dessen.
Love is the magician that pulls a man out of his own hat.
– Ben Hecht.
Spread love everywhere you go. Let no one ever come to you without leaving happier.
– Mother Teresa.
The madness of love is the greatest of heaven's blessings.
– Plato.
True love is quiescent, except in the nascent moments of true humility.
– Bryant H. Mcgill.
Man is by nature a lover. Only he has yet to discover the real thing to love. This quest awakens him to the fulfillment of his real Self.
– Sri Chinmoy.
Love is a sacred reserve of energy; it is like the blood of spiritual evolution.
– Pierre Teilhard De Chardin.
Love is an act of faith, and whoever is of little faith is also of little love.
– Erich Fromm.
Nothing is impossible for pure love.
– Mahatma Gandhi.
When someone loves you, the way they talk about you is different. You feel safe and comfortable.
– Jess C. Scott.
The good life is one inspired by love and guided by knowledge.
– Bertrand Russell.
Life is nothing but the expansion of love. We can cultivate divine love by entering into the Source. The Source is God, who is all Love.
– Sri Chinmoy.
There is always something left to love. And if you ain't learned that, you ain't learned nothing.
– Lorraine Hansberry.
In all the world, there is no heart for me like yours. In all the world, there is no love for you like mine.
– Maya Angelou.
Our life is all grounded and rooted in love, and without love, we may not live.
– Julian of Norwich.
---